Basil seeds, also called tukmaria seeds, are touted as a weight-loss aid because of their ability to swell in water and, therefore, improve satiety. While there's no harm in including basil seeds as part of a healthy weight-loss diet, no studies support these claims. Consult your doctor before starting any weight-loss diet.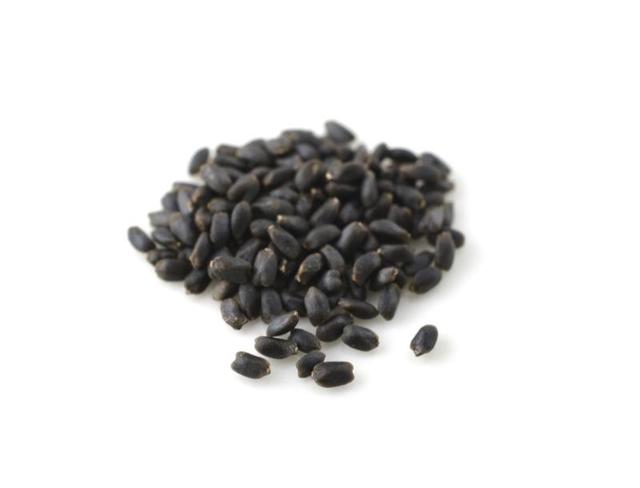 Basil Seed Nutrition
As a rich source of a number of nutrients you need, basil seeds are a healthy addition to your diet. A one-tablespoon serving contains 21 calories, 2 grams of protein, 4 grams of carbs and 0.5 grams of fat. The seed is also a source such vitamins and minerals as vitamins A, E and K, a number of the B-vitamins, iron, magnesium, calcium and potassium.
Basil Seeds and Weight Loss
Proponents say that basil seeds -- like chia seeds -- help control appetite, which is how they promote weight loss. While basil seeds have not been studied to determine if they are an effective weight-loss tool, chia seeds have been. A 2009 study published in Nutrition Reviews investigated the effects of chia seeds on weight loss in a group of 90 overweight and obese adults and found that chia seeds were not effective at helping with weight loss.
Use basil seeds as you would any other seed. For example, sprinkle some of the seeds in your morning bowl of oatmeal for extra crunch or add a tablespoon to your Greek yogurt. The seeds may also make a nice addition to a fruit or veggie salad. Be sure to count the additional calories you're adding with the basil seeds to help you control calories for weight loss.
While you can find basil seeds for growing basil plants, look for food-grade basil seeds when using it as part of your diet to limit exposure to insecticides.
الاخبار الجديدة
أخبار السابقة